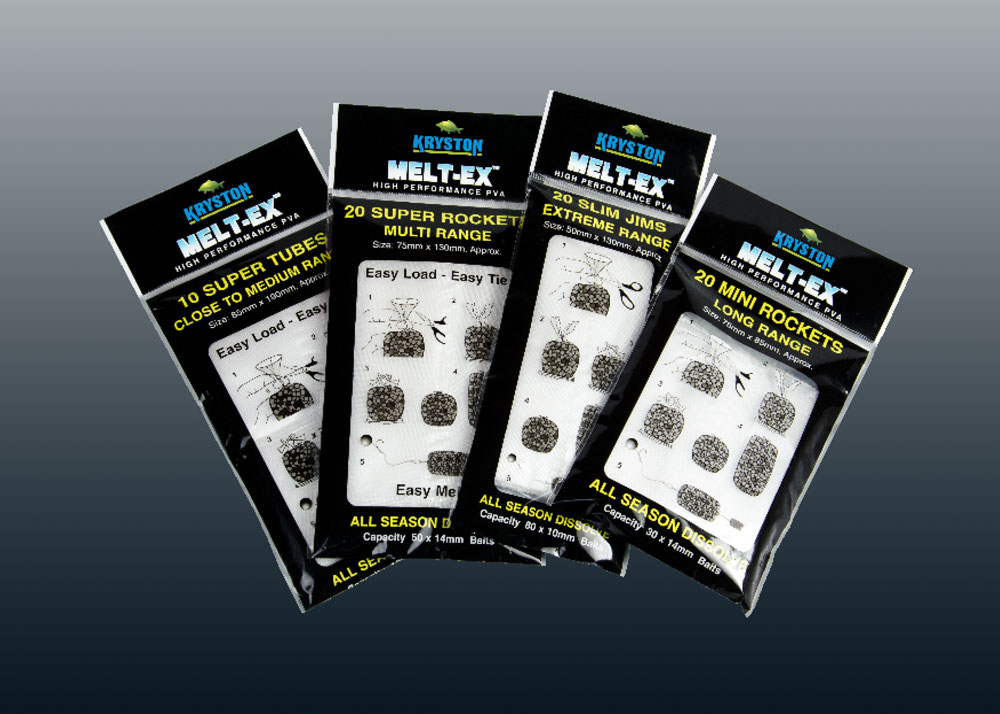 Solid Bags
Our outstanding range of quality bags are all manufactured by ourselves in the U.K. Because we insist on the very best we use nothing less than Premium Grade PVOH (Super Deluxe PVA).
Unlike many bags on sale Melt-ex's unique stippled anti-static texture prevents it from clinging and sticking together, meaning no more annoying stuck bags. As you remove one from the pack it remains open. Even for the novice this makes loading and tying child's play.
Even during damp and humid conditions the bags remain firm and easy to handle and fill. Super strong and extremely robust they stand up to power casts without exploding. Unlike stocking mesh they will not disintegrate on impact with the surface scattering the bait before it has chance to descend. The bags will sink and settle on the bottom delivering the perfect package in a compact tight area. The extra wide central weld eliminates the common weak spots found in bags with normal side seams. All season total dissolve right down to freezing point. Brilliant for boilies, maggots, crumb, pellets, damp particles and oil based liquids. In trials the extreme range versions were cast over 200 yards measured! The sizes throughout the range make them perfect for all species and conditions. From the highly popular swim feeder sized Snak Pax right though to the cavernous Super Tube you will find a bag that's tailor made for your venue. Full detailed illustrations show how easy it is to form them into dynamite sticks in seconds. Sizes and capacities are shown on each pack.
The quality of these bags are truly exceptional, and when judged on their low price make them the 'only real choice for serious bag users. PVOH is non-toxic and environmentally friendly.
Availability
MX1: 50x85mm Snak Pak
MX3: 50x130mm Slim Jims
MX5: 75x85mm Mini Rockets
MX7: 75x130mm Rocket Bags
MX9: 85x190mm Rocket Tubes